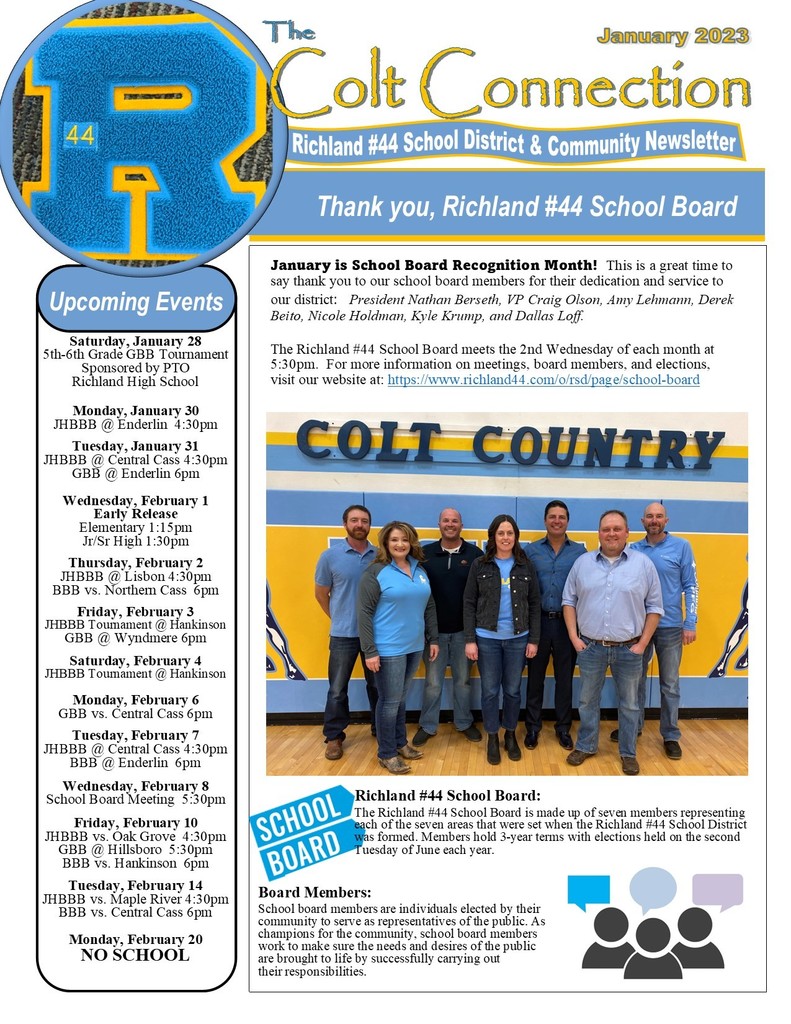 Tonight's boys' home game against Tri-State will be moved up one hour due to incoming weather later this evening. JV - 5pm Varsity - 6pm Go Colts! 🏀

SMILE, It's Class Picture Day!!! Scherling Photography will be out today to take class pictures of grades PK-11! Elementary will start at 8:30am, with Jr/Sr High to follow around 10:30am. Attendance is encouraged!

𝕎𝔼 𝔸ℝ𝔼 ℍ𝕀ℝ𝕀ℕ𝔾!! 𝐑𝐢𝐜𝐡𝐥𝐚𝐧𝐝 𝐉𝐫/𝐒𝐫 𝐇𝐢𝐠𝐡 𝐒𝐜𝐡𝐨𝐨𝐥 𝐢𝐬 𝐜𝐮𝐫𝐫𝐞𝐧𝐭𝐥𝐲 𝐬𝐞𝐞𝐤𝐢𝐧𝐠 𝐚𝐩𝐩𝐥𝐢𝐜𝐚𝐧𝐭𝐬 𝐟𝐨𝐫 𝐨𝐮𝐫 𝐅𝐂𝐒 𝐓𝐞𝐚𝐜𝐡𝐞𝐫 𝐩𝐨𝐬𝐢𝐭𝐢𝐨𝐧 (𝐬𝐭𝐚𝐫𝐭𝐢𝐧𝐠 𝐀𝐮𝐠𝐮𝐬𝐭 𝟐𝟎𝟐𝟑). 𝘍𝘰𝘳 𝘮𝘰𝘳𝘦 𝘪𝘯𝘧𝘰𝘳𝘮𝘢𝘵𝘪𝘰𝘯 𝘰𝘳 𝘵𝘰 𝘢𝘱𝘱𝘭𝘺, 𝘤𝘰𝘯𝘵𝘢𝘤𝘵 𝘚𝘶𝘱𝘦𝘳𝘪𝘯𝘵𝘦𝘯𝘥𝘦𝘯𝘵 𝘉𝘳𝘪𝘵𝘯𝘦𝘺 𝘎𝘢𝘯𝘥𝘩𝘪 𝘢𝘵 701-372-3713 𝘰𝘳 𝘷𝘪𝘴𝘪𝘵:
https://www.richland44.com/page/employment-opportunities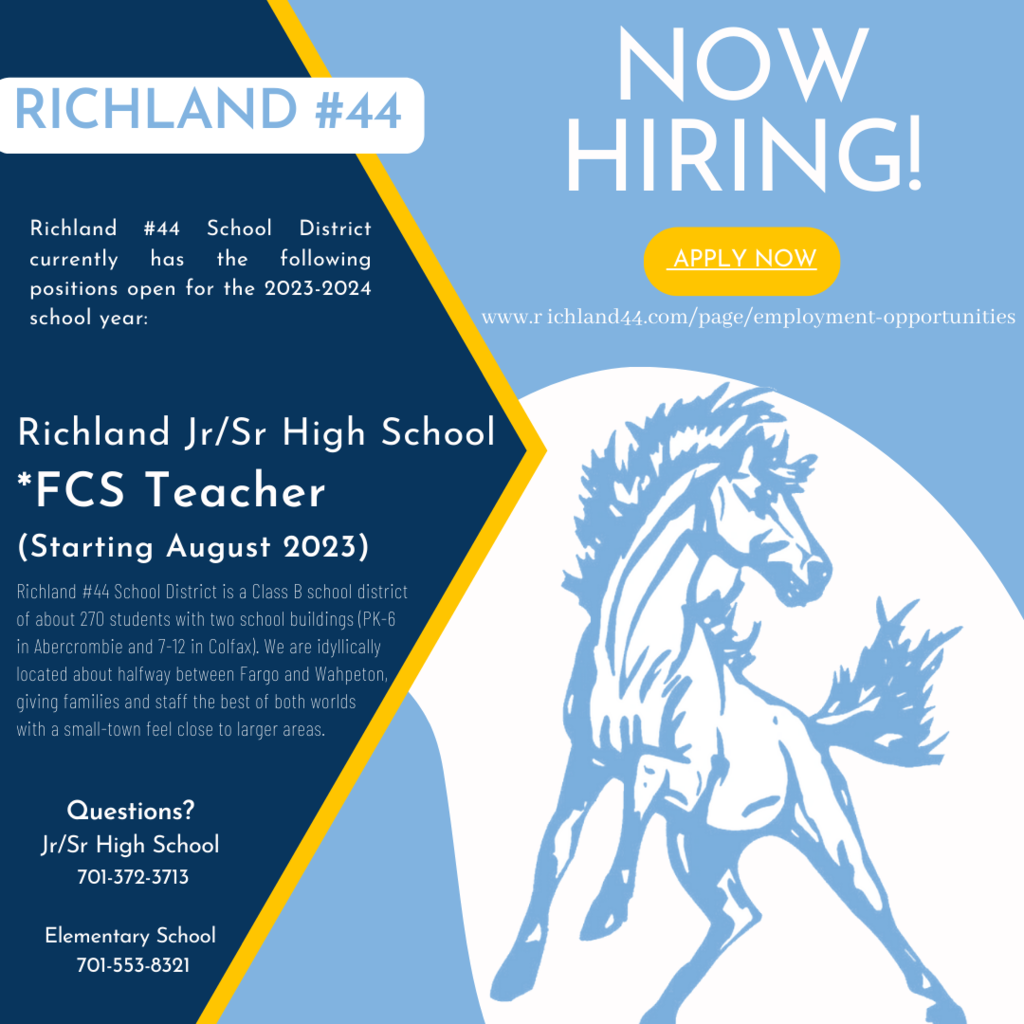 Tonight's girls basketball game against Wyndmere has been postponed due to weather and road conditions.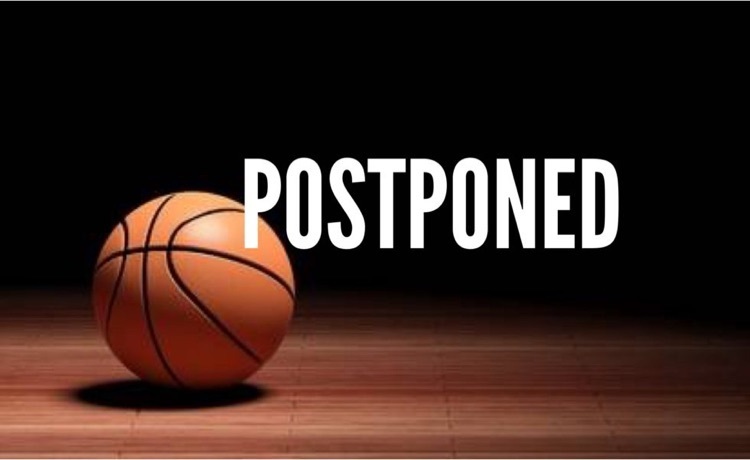 Preschool Interest Survey (2023-2024): We are currently gathering information for Fall 2023 Pre-School enrollments! Students must be 4 years of age by July 31, 2023 to enroll this Fall. For more information and to complete the survey, go to:
https://tinyurl.com/Richland44PreSchoolSurvey2023

We are excited to see students back tomorrow and hope you all had a great break! 7th-12th students will have the final day of 1st semester tomorrow due to the storm day 12/22. 2nd semester schedules start Wednesday. Happy New Year, Colts!! 🎉💙💛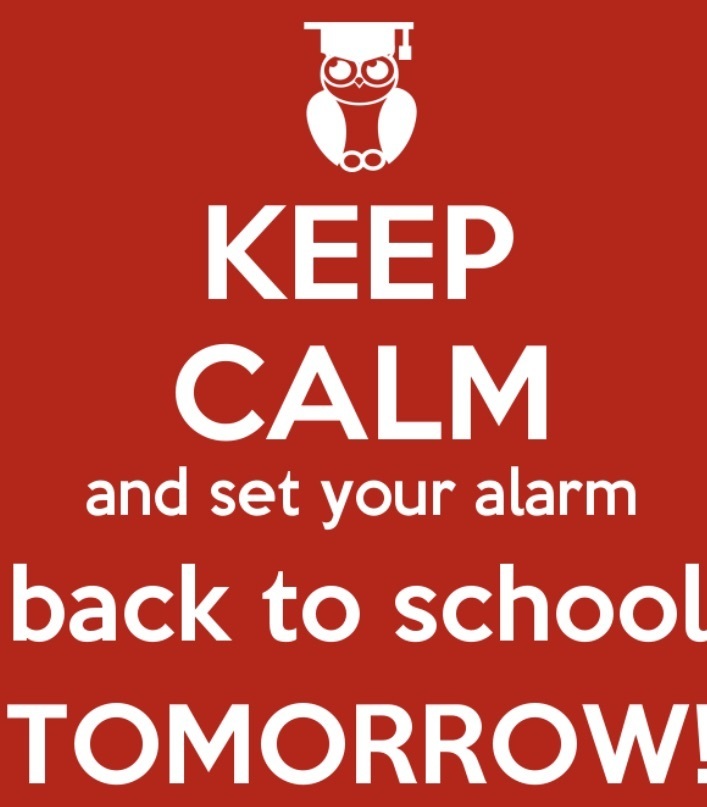 LOST AND FOUND: We have accumulated several lost and found items during the 1st Semester at Richland #44. If any of the items pictured look familiar, please contact the office or email
Kendra.L.Dockter@k12.nd.us
by January 3. All remaining items will be donated to the Sanford ER on January 4.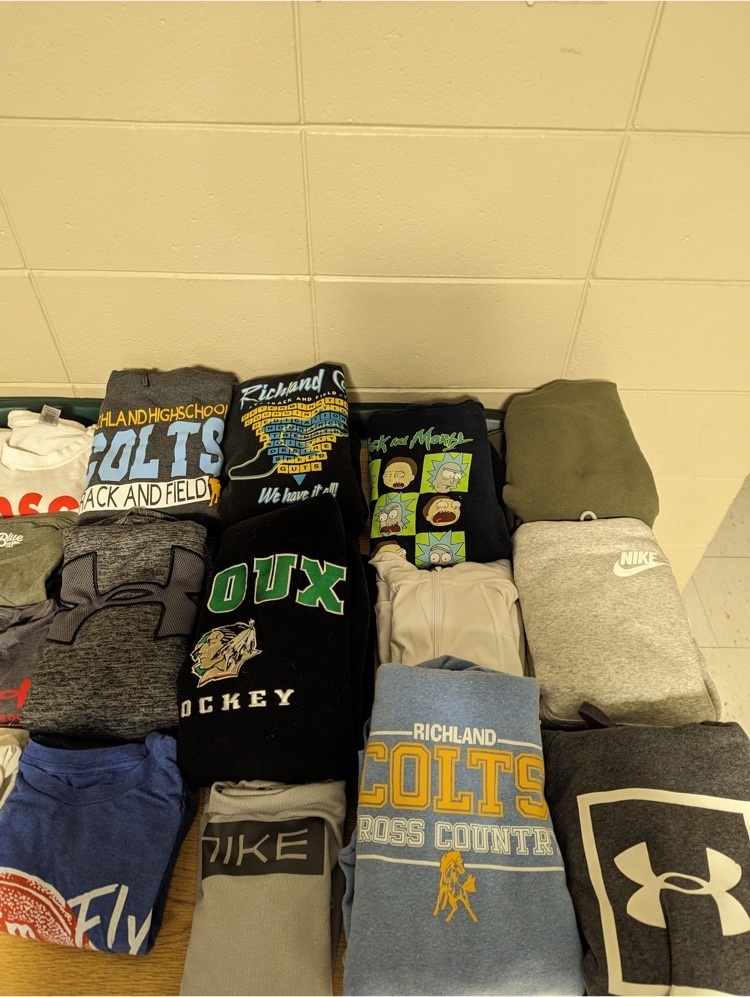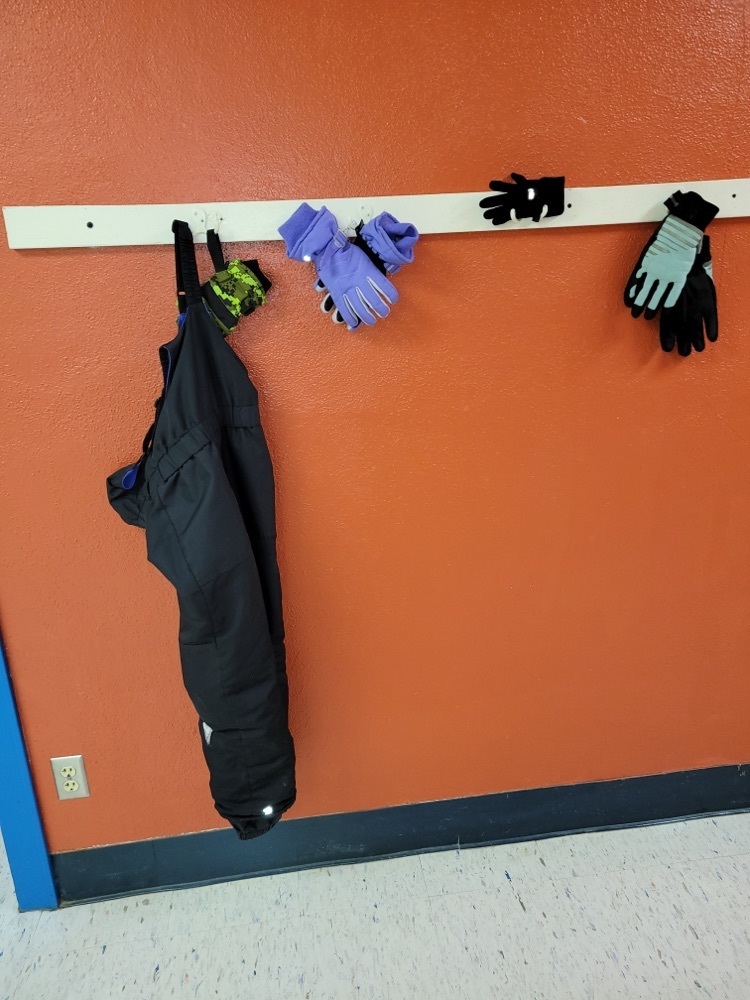 Wishing our students, staff, and all of Colt Country a Merry Christmas and Happy New Year!! Classes resume on Tuesday, January 3, 2023.
There will be no school today, Thursday December 22, due to drifting snow, snow-covered roads, and increased wind speeds later today. All activities are also cancelled. Have a safe break and we'll see students back on Tuesday January 3!
Congratulations to the Richland #44 Knowledge Bowl Teams for their placings in the Concordia Meet today. Richland placed 2nd and 4th!!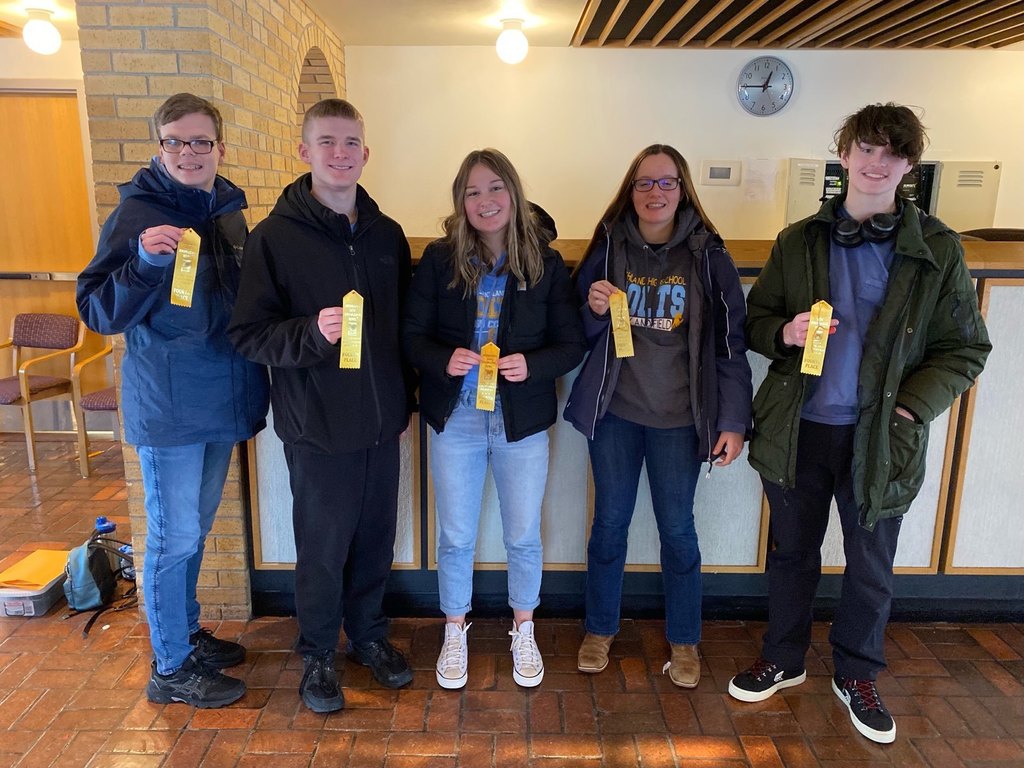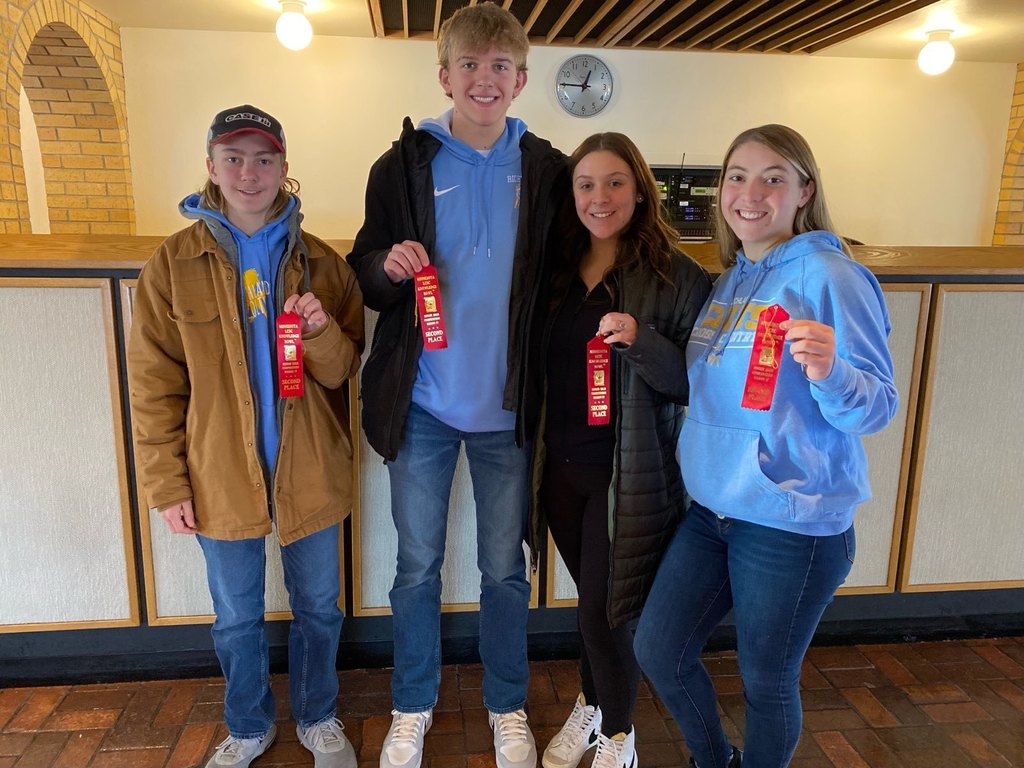 Good luck to the Richland #44 KNOWLEDGE BOWL TEAM as they compete in their first competition today at Concordia!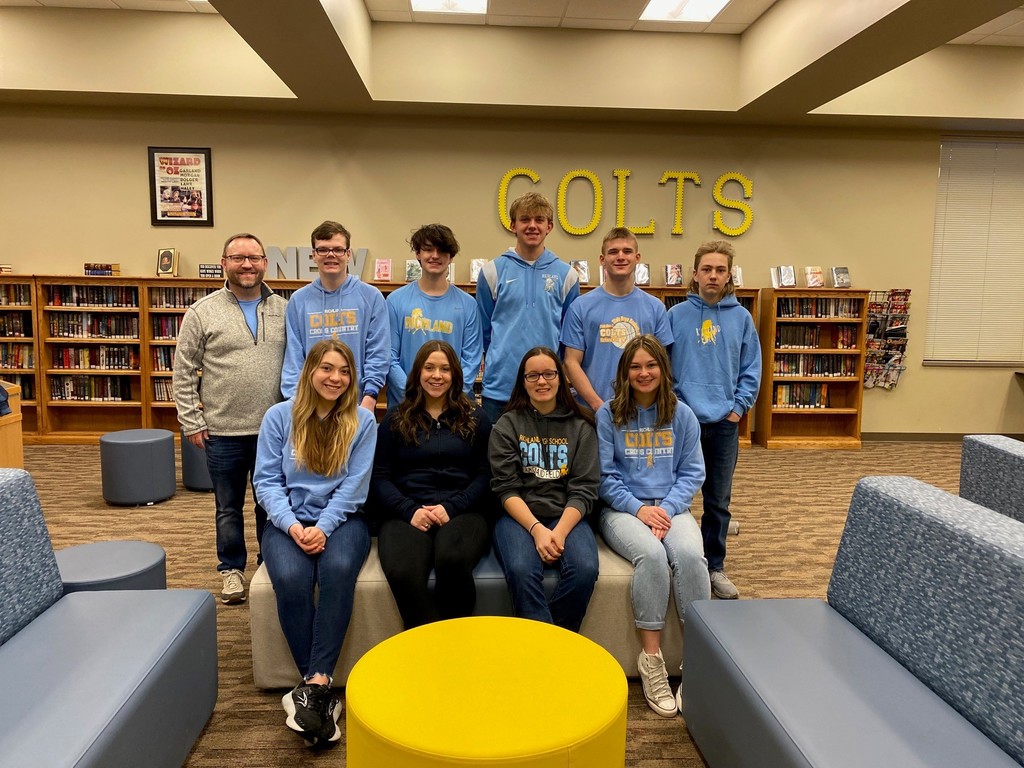 𝗥𝗶𝗰𝗵𝗹𝗮𝗻𝗱 𝗝𝗿/ 𝗦𝗿 𝗛𝗶𝗴𝗵 𝗦𝗰𝗵𝗼𝗼𝗹 𝗵𝗲𝗹𝗱 𝘁𝗵𝗲𝗶𝗿 𝟭𝟬𝘁𝗵 𝗮𝗻𝗻𝘂𝗮𝗹 𝗖𝗼𝗹𝘁𝘀 𝗖𝗮𝗿𝗲 𝗗𝗮𝘆 𝘁𝗼𝗱𝗮𝘆. 𝚂𝚝𝚞𝚍𝚎𝚗𝚝𝚜, 𝚐𝚛𝚊𝚍𝚎𝚜 𝟽-𝟷𝟸, 𝚝𝚘𝚘𝚔 𝚙𝚊𝚛𝚝 𝚒𝚗 𝚜𝚎𝚟𝚎𝚛𝚊𝚕 𝚌𝚘𝚖𝚖𝚞𝚗𝚒𝚝𝚢 𝚜𝚎𝚛𝚟𝚒𝚌𝚎 𝚙𝚛𝚘𝚓𝚎𝚌𝚝𝚜 𝚝𝚑𝚊𝚝 𝚒𝚗𝚌𝚕𝚞𝚍𝚎𝚍: 𝘴𝘦𝘸𝘪𝘯𝘨 36 𝘣𝘶𝘳𝘱 𝘳𝘢𝘨𝘴 𝘧𝘰𝘳 𝘵𝘩𝘦 𝘣𝘪𝘳𝘵𝘩𝘪𝘯𝘨 𝘶𝘯𝘪𝘵 𝘢𝘵 𝘚𝘢𝘯𝘧𝘰𝘳𝘥 𝘏𝘰𝘴𝘱𝘪𝘵𝘢𝘭; 𝘴𝘦𝘸𝘪𝘯𝘨 20 𝘢𝘤𝘵𝘪𝘷𝘪𝘵𝘺 𝘱𝘪𝘭𝘭𝘰𝘸𝘴 𝘧𝘰𝘳 𝘙𝘪𝘤𝘩𝘭𝘢𝘯𝘥 𝘌𝘭𝘦𝘮𝘦𝘯𝘵𝘢𝘳𝘺 𝘓𝘪𝘣𝘳𝘢𝘳𝘺; 𝘣𝘢𝘬𝘪𝘯𝘨 40 𝘥𝘰𝘻𝘦𝘯 𝘮𝘰𝘯𝘴𝘵𝘦𝘳 𝘤𝘰𝘰𝘬𝘪𝘦𝘴 𝘵𝘰 𝘴𝘦𝘭𝘭 𝘸𝘪𝘵𝘩 $500 𝘪𝘯 𝘱𝘳𝘰𝘤𝘦𝘦𝘥𝘴 𝘨𝘰𝘪𝘯𝘨 𝘵𝘰 𝘎𝘪𝘨𝘪'𝘴 𝘗𝘭𝘢𝘺𝘩𝘰𝘶𝘴𝘦; 𝘮𝘢𝘬𝘪𝘯𝘨 50 𝘵𝘪𝘦 𝘣𝘭𝘢𝘯𝘬𝘦𝘵𝘴 𝘧𝘰𝘳 𝘗𝘳𝘰𝘫𝘦𝘤𝘵 𝘓𝘪𝘯𝘶𝘴; 𝘣𝘶𝘪𝘭𝘥𝘪𝘯𝘨 𝘢 𝘴𝘩𝘰𝘰𝘵𝘪𝘯𝘨 𝘴𝘵𝘢𝘯𝘥 𝘢𝘯𝘥 𝘣𝘦𝘯𝘤𝘩 𝘧𝘰𝘳 𝘵𝘩𝘦 𝘔𝘰𝘰𝘳𝘦𝘵𝘰𝘯 𝘛𝘳𝘢𝘱 𝘚𝘩𝘰𝘰𝘵𝘪𝘯𝘨 𝘙𝘢𝘯𝘨𝘦; 𝘱𝘢𝘤𝘬𝘪𝘯𝘨 1100 𝘭𝘣𝘴 (4,400 𝘴𝘦𝘳𝘷𝘪𝘯𝘨𝘴) 𝘰𝘧 𝘱𝘢𝘴𝘵𝘢 𝘧𝘰𝘳 𝘎𝘳𝘦𝘢𝘵 𝘗𝘭𝘢𝘪𝘯𝘴 𝘍𝘰𝘰𝘥 𝘉𝘢𝘯𝘬; 𝘤𝘢𝘳𝘰𝘭𝘪𝘯𝘨 𝘢𝘯𝘥 𝘥𝘦𝘭𝘪𝘷𝘦𝘳𝘪𝘯𝘨 144 𝘱𝘭𝘢𝘯𝘵𝘴 𝘵𝘰 2 𝘢𝘳𝘦𝘢 𝘳𝘦𝘵𝘪𝘳𝘦𝘮𝘦𝘯𝘵 𝘩𝘰𝘮𝘦𝘴; 𝘤𝘭𝘦𝘢𝘯𝘪𝘯𝘨 𝘢𝘵 𝘵𝘩𝘦 𝘕𝘦𝘸 𝘓𝘪𝘧𝘦 𝘊𝘦𝘯𝘵𝘦𝘳; 𝘳𝘦𝘴𝘵𝘰𝘤𝘬𝘪𝘯𝘨 𝘥𝘪𝘢𝘱𝘦𝘳𝘴/𝘴𝘶𝘱𝘱𝘭𝘪𝘦𝘴 𝘢𝘯𝘥 𝘴𝘦𝘢𝘭𝘪𝘯𝘨 𝘸𝘪𝘯𝘥𝘰𝘸𝘴 𝘢𝘵 𝘵𝘩𝘦 𝘗𝘦𝘳𝘳𝘺 𝘊𝘦𝘯𝘵𝘦𝘳 𝘪𝘯 𝘍𝘢𝘳𝘨𝘰; 𝘢𝘯𝘥 𝘪𝘯𝘴𝘵𝘢𝘭𝘭𝘪𝘯𝘨 𝘤𝘩𝘢𝘪𝘳/𝘸𝘢𝘭𝘭 𝘳𝘢𝘪𝘭𝘴 𝘪𝘯 𝘵𝘩𝘦 𝘣𝘰𝘢𝘳𝘥 𝘳𝘰𝘰𝘮.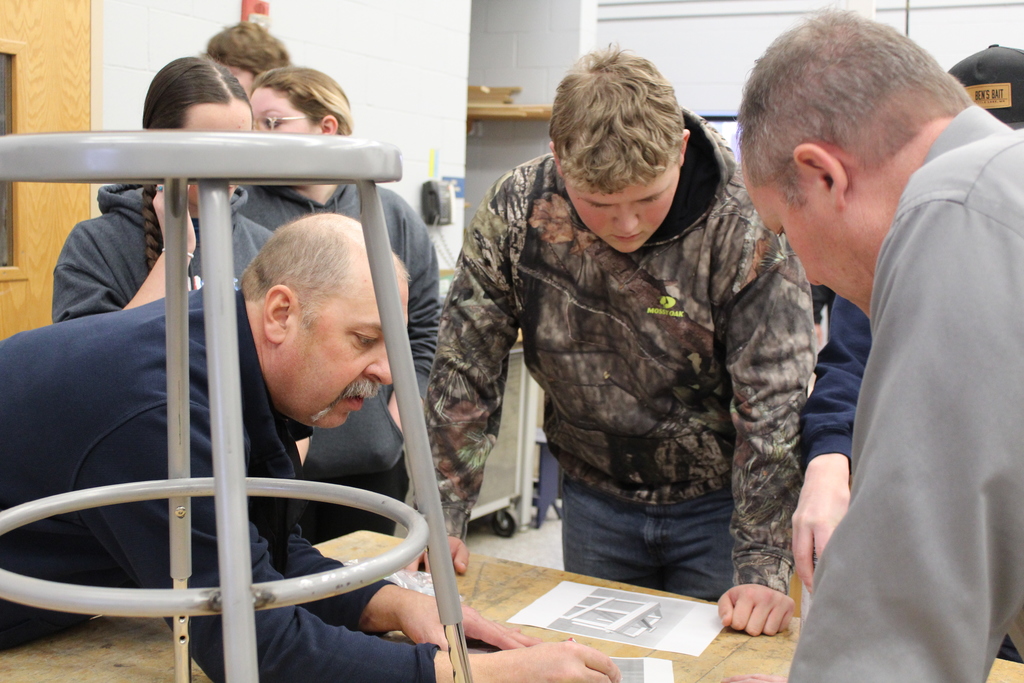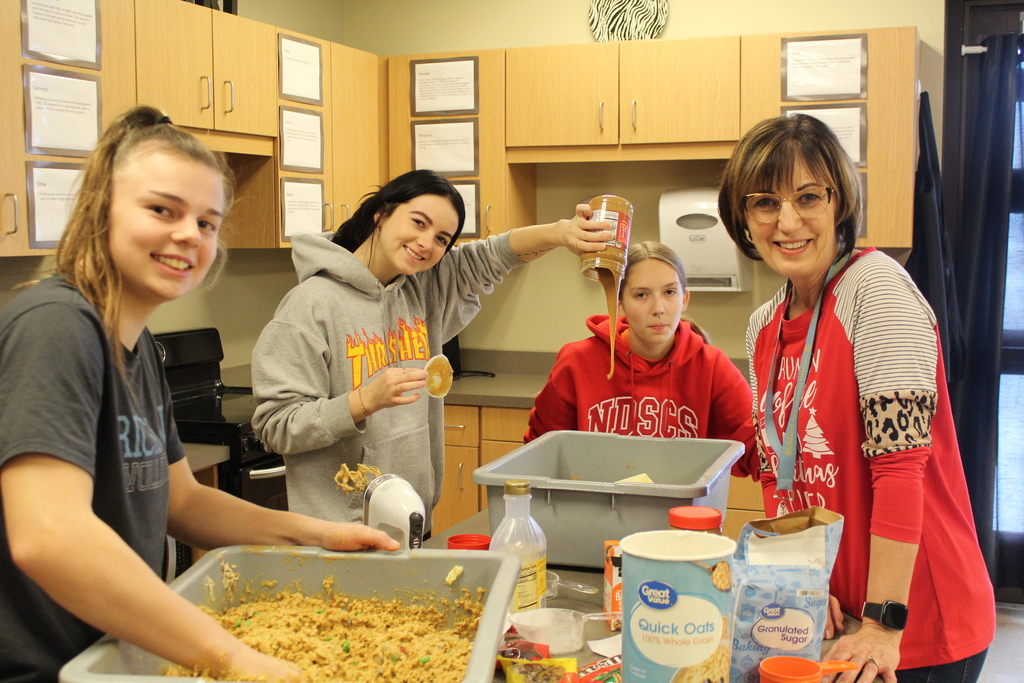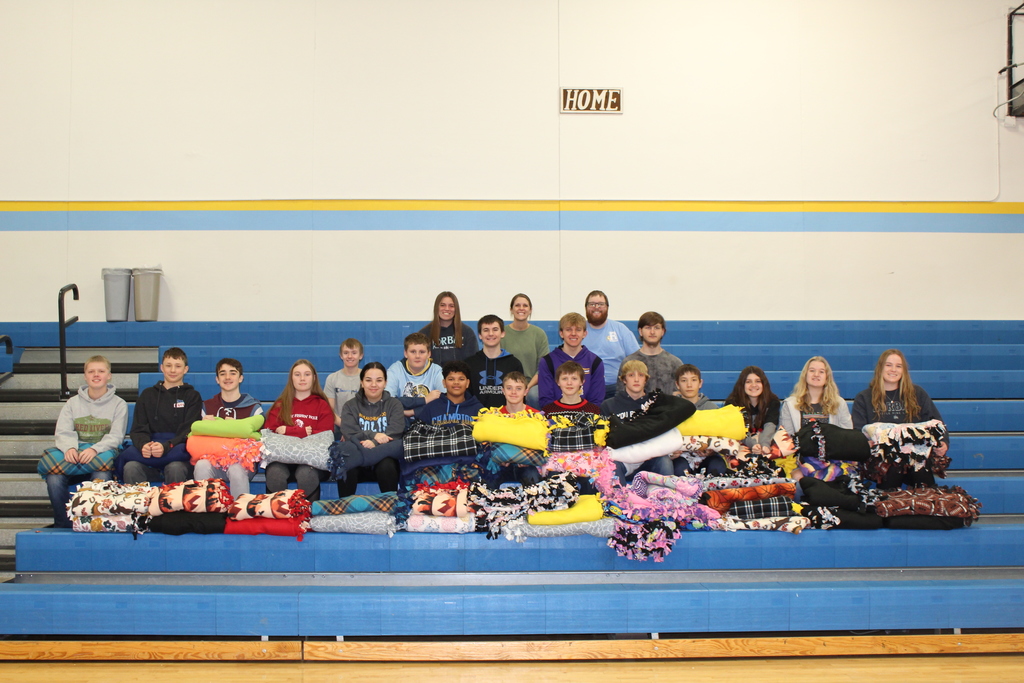 The Richland #44 Jr/Sr High Winter Concert that was originally scheduled for December 15 has been RESCHEDULED for MONDAY, DECEMBER 19 AT 7PM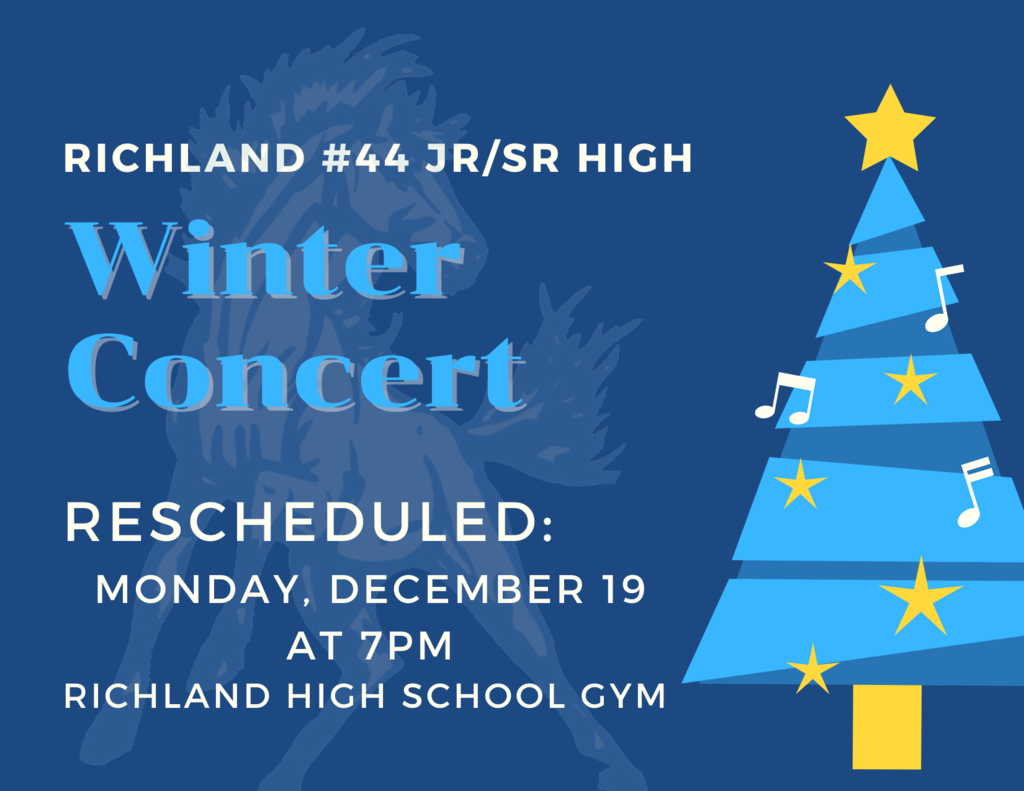 Today will be a virtual learning day due to weather and road conditions. Elementary students have work in backpacks and Jr/Sr HS students should log into 1st period at 10:30 via Google Meets (see email for bell schedule). Stay safe! ❄️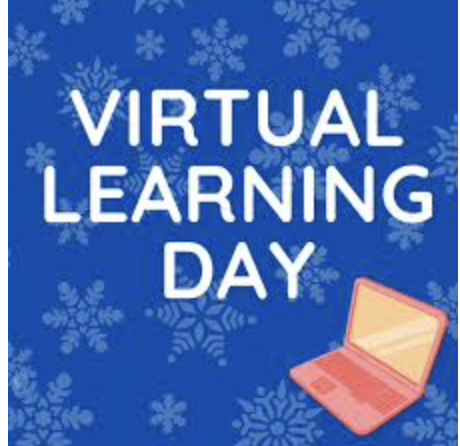 We will have a 2-hour delay tomorrow, Friday December 16, to allow more time to clear roads. If conditions do not allow us to have in-person school, we will have a virtual learning day (we have utilized our three makeup days). Parents, more info coming via email about virtual learning. There will be no PreK tomorrow.
There will be no school or activities today, Thursday December 15, due to forecasted weather. Makeup day is May 26. More information forthcoming on a rescheduled date for Jr/Sr concert.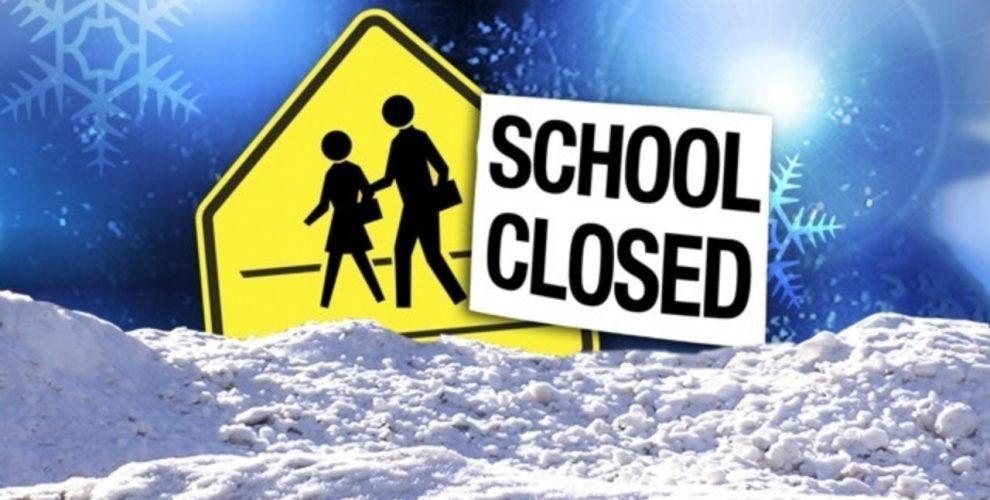 We will have a 2 hour delay tomorrow, Thursday December 15, due to the projected weather. Any additional changes will be communicated in the morning.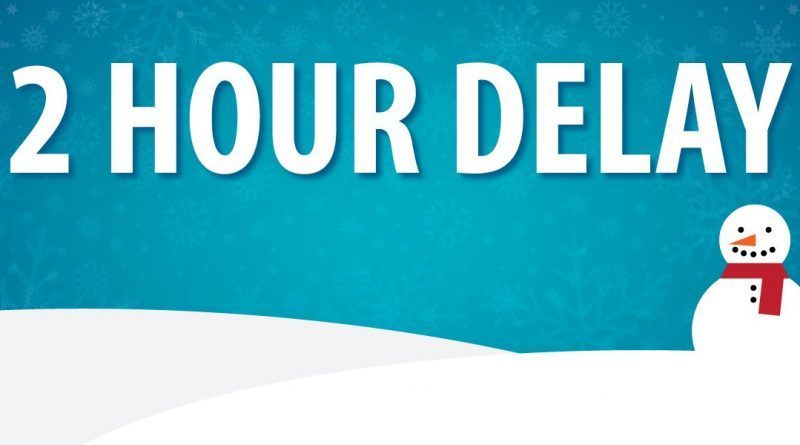 There will be no school tomorrow, Wed. Dec. 14, due to current and projected weather and driving conditions. April 10 will be our storm makeup day. Stay safe, Colt Country!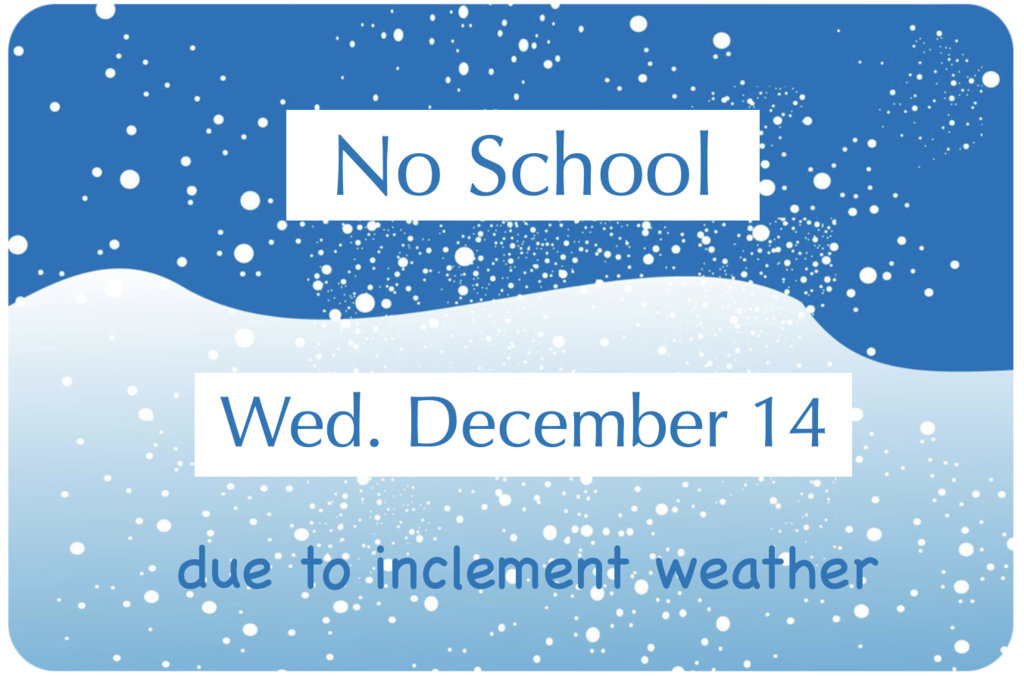 We will dismiss early today to ensure students are home before heavier snow enters the area. Elementary will dismiss at 1:45 and Jr/Sr HS at 2. Buses will run, and all after school activities are cancelled.